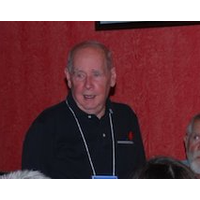 Richard Hicks, unfortunately passed on December 26, 2017.
Richard was a true American hero. The following is from his Obituary that appeared in the Florida Times Union
While studying electrical engineering at Georgia Tech. he was inspired by President John F. Kennedy and joined the Peace Corps. He served in Afghanistan living with the Afghan people, setting up their first Post Office and designing their first postage stamp. Richard was called to duty and served as a Warrant Officer in Vietnam as a Helicopter Pilot. Shot down three times, Richard was awarded the Bronze Star Medal and the Distinguished Flying Cross. Returning home, Richard engaged in a career as an Air Traffic Controller and afterward he worked as a Process Chemist Tech. with Jacksonville Electric Authority where he retired.
Richard's wife Louise

Bergeron said she would let us know about a memorial service..
Published in the Florida Times-Union on Dec. 31, 2017
http://digital.olivesoftware.com/Olive/ODN/floridatimesunion/
---