New Year, Same Mission!
Here we are at our Annual Retreat. Thanks for the picture, David!
Hello, FCRPCV's!
Last month our board and our local Peace Corps recruiter, Chris Lins, met for our annual retreat to prepare 2021. We have a milestone event this year -  The Peace Corps 60th Celebration! We are in the process of coordinating local Peace Corps celebration events. If you are interested in taking part at any level please do let us know. We would welcome your ideas and/or service! 
On that note, if you are interested in spending an hour or two a month volunteering with the FCRPCV board please let us know. We are currently looking for volunteers to help with our advocacy, service projects, and communication efforts.
As the Covid Vaccine begins to roll out on the First Coast so does the hope of us all once again getting together for our Celebrations and Happy Hours... Perhaps in the Fall!
A little housekeeping note... We have had a handful of FCRPCV members create duplicate memberships with an alternate email. This has happened two ways: someone renews their membership with an alternate email, or someone logs in with a new username and an alternate email. If you happen to forget your log in info, please reach out to us and we will promptly send you a link to reset your password.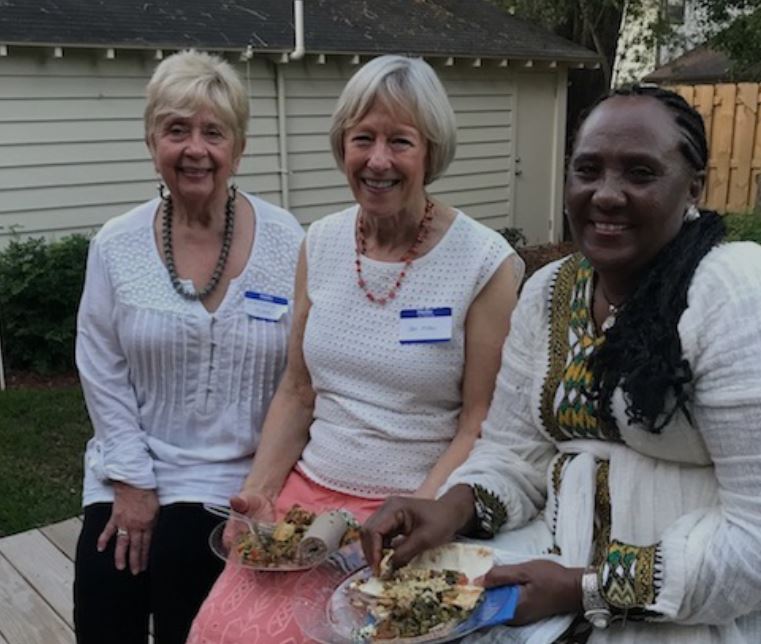 From the right: Muna from Ethiopia, Jan, Botswana 2011-2013 and Bernadette, Colombia 1963-1965 at our very first Signature Project Refugee Dinner.
Finally, the start of 2021 brings more opportunities for us to support our mission. The Biden administration has proposed to significantly increase the number of refugees admitted to the U.S.. This allowed for our Signature Project, which aims to promote meaningful interaction between refugees and U.S. citizens, is now able to return to our events calendar. Please stay tuned for our upcoming Signature Project events that will foster shared understanding, tolerance and peaceful coexistence to honor the third goal of Peace Corps.
With Peace, Love and Light,
Nina Frank, Moldova 2006-2008
In the news...

The Peace Corps Responds to President Biden's Executive Order on Advancing Racial Equity and Support for Underserved Communities through the Federal Government.

Click here to see the official Peace Corps response.

Click here to see the Executive Order (EO)13985, On Advancing Racial Equity and Support for Underserved Communities through the Federal Government,

Amid a time of great turmoil, the Peace Corps community has come together to chart a way forward. "Peace Corps Connect to the Future," the report that National Peace Corps Association released last week, stakes out the challenge clearly at the outset: "The question right now for both the United States and the Peace Corps agency isn't whether to engage the world after the coronavirus. We must. The question now is how to do it. This moment of international crisis and domestic change has provided us with a period of critical reflection to restructure, retool, renew commitment, and get things right.

Have you seen the Winter 2021 edition of WorldView Magazine?

There's an app for that! And it's FREE for the PC Community!

Full editions — first. Digital exclusives. Searchable archives. Here's how to get it:

Sign up for an account here. For a limited time, access is free using the code: DIGITAL2020

2. Then download the app from the iOS store, Google Play, OR read the mag on Flickread on your computer here.
Copyright © 2020

First Coast Returned Peace Corps Volunteers, Inc.

, All rights reserved.
 

This email was sent by:
First Coast Returned Peace Corps Volunteers, Inc.
STE 107 - 1912 Hamilton St
Jacksonville, FL, 32210

 

You have received this email because you are a member or existing contact of First Coast Returned Peace Corps Volunteers, Inc., a membership organization powered by SilkStart. update notification preferences unsubscribe from this list