Grants Program
The 11th Annual Partnership Lunch was held on Sunday, June 23, at Taverna Yamas. We had a generous group who voted to contributed $900.00, plus an amount  from Taverna Yamas, our host. We awarded grants to Peace Corps  volunteers from Florida.Thank You all who presented and contributed, by either paying dues or buying voting ballots.
SCHOOL POULTRY FARM PROJECT GHANA
DEVLIN IRWIN, A VOLUNTEER FROM FLORIDA RECEIVES $250.00
This project was the brainchild of the school's, headmaster, Mr. Gati. He called together a community stakeholders meeting and together the community approved the idea and committed substantial resources towards the construction of the building.
The project will pay for itself out its own revenues after the third month of layer life, when they start laying. The goal of the project is to establish a sustainable business whose profits largely fund the school
CLASSROOMS FOR THE FUTURE LEADERS OF THE BORGOU BENIN
KIRSTEN PETERSON, A VOLUNTEER FROM FLORIDA RECEIVES $400.00
I live and work in a small farming community in northern Benin. Parents in my village make dramatic sacrifices to ensure that their children can go to school. However, my community's primary school is in desperate need of classrooms. There are 6 grades at the primary school, around 200 students, and only 4 functional classrooms. The village's 5th and 6th classroom were mud buildings that collapsed in a rainstorm last June. You get the idea, we are very poor.
RAINWATER HARVEST NEPAL
OLIVIA RICHTER, A VOLUNTEER FROM MINNESOTA RECEIVES
In the hills of far west Nepal, an ethnically diverse community of farmers unfortunately suffers from severe water insecurity as they are above access to rivers and natural spring water. Lasting from September to May each year, devastating drought hits this region causing primarily women and girls to heave jugs of water from unreliable community taps several times a day to meet basic household needs. The inaccessibility to water is detrimental to sustenance and commercial farming alike, resulting in village-wide malnutrition and financial instability for much of the year. From June to September, monsoon rains collected by rooftop catchment can supply sufficient volume in potable quality for a household's daily use lasting the entire year. Within 2 years, the village Farmer's Group aims to use rainwater harvest to meet the annual water needs of its 35 active members' households. 
The 10th Annual Partnership Dinner, was actually a late lunch, at Don Juan's Mexican Restaurant, courtesy of Kaylee Quezada, Azerbaijan, and her husband Eder, son of the owners. Thank you both.Please note once the Project is funded, Peace Corps removes the Project from their web site.We voted:
Middle Atlas Environmental Project-funded separately
David Rojas, from Florida, serving in the Middle Atlas, in Morocco. We funded an  environmental education project for the youth in the  town, Ait Ishaq.  At the youth center David & site partner Rebecca plan a handful of day hikes and one multi day trip to hike the tallest mountain in Morocco (Mt. Toubkal), 30 climbed.See one of the meetings above
Benin Health Center Maternity Project  received the most votes CLICK HERE
Zambia Solar Power for the Primary School received the fewest votes CLICK HERE
Kosovo Cabinet Cabinet Against Radicalization of Youth (CARY) was in the middle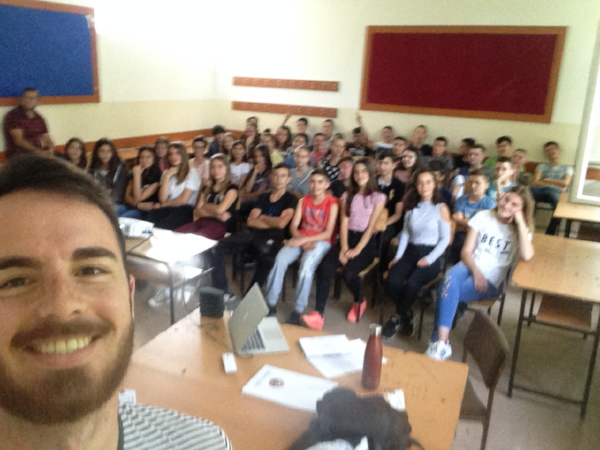 CLICK HERE
Selection Criteria
We are enthusiastic supporters of the Peace Corps Partnership Program. We give preference to Volunteers from Florida, but we do not discriminate against any current Peace Corps Volunteers and Peace Corps Response  Volunteers.
We also support Refugees directly, and through two agencies that work diligently to support and resettle Refugees in the First Coast area.through our Third Goal Signature Project Activities.
Application Process
We rely on the Peace Corps to alert us of the Partnership Projects that we can support. Those projects can be found here.