We've lots to be grateful for, especially YOU!
Happy Thanksgiving Week, FCRPCV's 
This month, even in the middle of a pandemic we are reminded to give thanks and appreciation for our friends, family and other special folks in our lives and their most memorable happenings. 
Two weeks ago we had our Annual General Meeting (AGM) and it was our very first virtual AGM. We Zoom'ed and had 35 attendees! Thank you to all who attended! If you were not able to attend; Here is a quick recap. We heard from four wonderful speakers, Chris Lins, Maricarmen Smith-Martinez, Tom Potter, and Michael Booker who all shared their unique perspective on Peace Corps What's Next Globally and Locally. We also voted unanimously to approve the amended BY-Laws, CLICK  
The 2021 Board of Directors were unanimously approved. CLICK to see who we are. Hover over their photos to see a photo of each as a PCV.
Every year the FCRPCV President, (me this year), prepares an Annual report. I used the ZOOM presentation, which I shared during the meeting, to accomplish this task. Our 2020 Annual Report is available for you to download here. 
Since the AGM the FCRPCV Board of Directors was very grateful to be able to vote in one more member to our Board, Tom Potter! Tom is no stranger to FCRPCV and has been the National Peace Corps Association's elected Southern Region representative for over three years now. We are very excited to welcome Tom Potter to the FCRPCV Board of Directors.  
Finally, I would l ike to thank everyone who came out to on November 12th to the German Schnitzel House in Harbour Village Shopping Center for a socially distanced get together to pick up your swag AND to everyone who has or in the process of delivering swag to our members. We truly are a wonderful group because of our members! Thank YOU!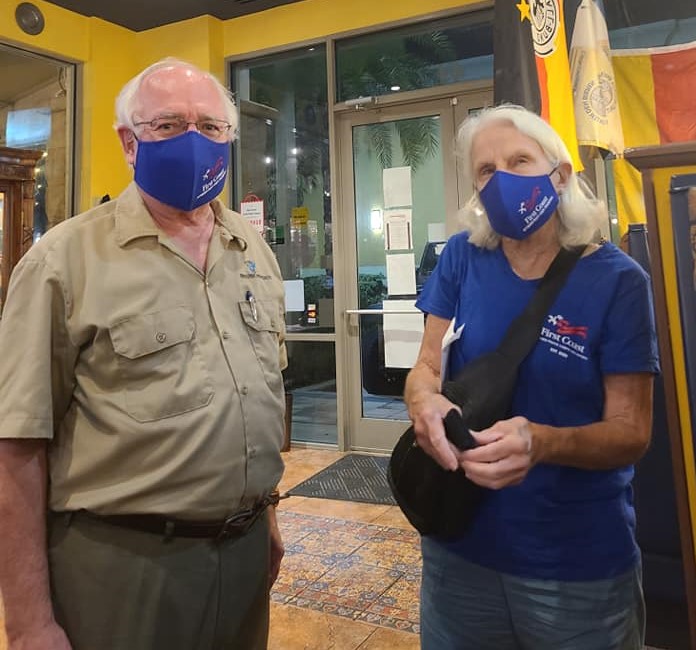 Above are super FCRPCVs Mike Dixon, Ukraine 2011-2014, Armenia (Response,2015), Kosovo (Response 2016), and Maggie Hankamp, Ukraine 2010-2012 and Comoros, 2015 pictured at The German Schnitzel House to pick up their Masks and calendars.
Here's to more opportunities to get together in 2021!
With Peace, Love and Light,
Nina Frank, Moldova 2006-2008
What's the role of peace Corps now?

In the new edition of WorldView magazine, they take a broad and deep look at what Peace Corps should be for a changed world.

Hear voices from around the world — and across generations and countries.

Also inside: stories from the pandemic, a returned Volunteer working the front lines as a wildland firefighter, and lessons from the past. 

Renowned infectious disease expert Dr. Anthony Fauci offered words of inspiration as the first cohort of the NPCA Emergency Response Network began training as contact tracers on October 28.

The inaugural members have now begun work as contact tracers with the U.S. Department of Health and Human Services of Seattle and King County, WA. 

 

RPCVs of Colorado had a very successful event November 5th with Dr. Jody Olsen. 

Jody was so impressed with the submitted questions that she will be using them to help her senior staff have a greater sense of what the RPCV Community is thinking about regarding the future of the Peace Corps. 

Jody brought Andrew Wilson who is the Peace Corps Director of Third Goal Action to speak about next steps in collecting elusive data that says how we are continuing our service after Peace Corps.
Copyright © 2020

First Coast Returned Peace Corps Volunteers, Inc.

, All rights reserved.
 

This email was sent by:
First Coast Returned Peace Corps Volunteers, Inc.
STE 107 - 1912 Hamilton St
Jacksonville, FL, 32210

 

You have received this email because you are a member or existing contact of First Coast Returned Peace Corps Volunteers, Inc., a membership organization powered by SilkStart. update notification preferences unsubscribe from this list